Nursing school has prepared you well for life on the job but what about crushing your interviews and landing your dream job? You may have experienced pressure when landing your first hospital internship during your studies, but did you feel fully prepared? The interview process doesn't start when you sit down with the hiring manager. It's an ongoing, inclusive experience that encompasses resume building, interview attire, follow-up emails, and much more.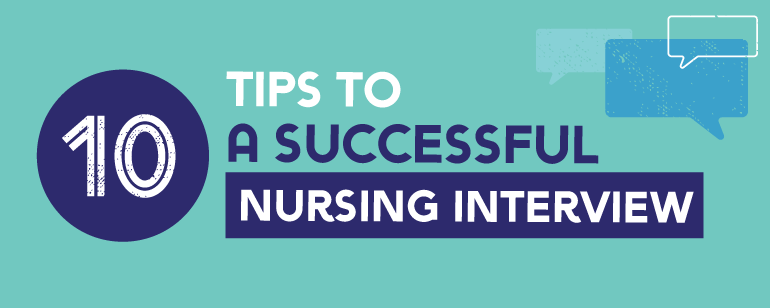 If you've landed on this article, you're ready to learn what you need to know to position yourself ahead of your competition. Eisenhower Health wants to help all nurses advance in their careers, so we've outlined some do's and don'ts for nursing interviews. Let's get started.
DO research hospital protocol and culture
Before you enter the interview, find out all you can about the health care organization that you're applying to. Start on their website and look for their mission statement, values and beliefs, and work culture. Craft your answers to make it seem like you're the perfect cultural fit and that your goals align with theirs. Tip: As long as it is authentic to you and your beliefs bring up a specific word/phrase found on their website and incorporate that into your response.
An example response incorporating this tip:
Your website lists compassion as a pillar for quality care. After volunteering for 3 years at the local senior center, I agree that delivering quality care to patients starts with a compassionate heart that listens to their concerns and establishes strong connections with them.
DON'T admit shortcomings if you don't have to
Transparency is key, but don't willingly admit your shortcomings if the interviewer asks you a question that you don't have sufficient knowledge or experience in. Prepare your response to these questions and approach them with the angle that you're eager to grow and working for the hospital will provide you with valuable learning experiences. Tip: Focus every answer on a positive aspect about yourself and build a response around it.
An example response incorporating this tip:
Though I don't have a lot of experience in that field, I've been complimented by my instructors for my ability to learn procedures quickly and attention to detail. Working for [Hospital] gives me the opportunity to showcase those skills and gain new experiences to continue delivering quality care to our patients.
DO practice interviews with experienced nurses
Seek help from colleagues who may have a few interviews under their belt. They'll tell you what questions you can expect so you can prep yourself accordingly. Feel free to ask your instructor or mentor as well to gain a different perspective. From a hiring standpoint, what are they looking for in the ideal candidate? Learning from other people's experiences is valuable, regardless if this is your first or tenth interview. Tip: Simulate a formal interview with these people to get used to the pressure and practice as many times as needed.
How to ask for help from a colleague:
I'm reaching out because I will be interviewing for a [position name] role at [hospital]. I really admire your experience in the industry and your ability to land a job at [their hospital]. Would you be willing to conduct a mock interview with me?
Thank you in advance for your consideration, [name]
DON'T give a negative or bland response
The questions interviewers use to really get to know who you are include, "What does your ideal Sunday look like?" or "If you could be any animal what would you be and why?" This stops the cookie-cutter response and provides insight into who you are and how you might spend your free time. Don't offer responses like sleeping till 2 PM or relaxing all day. Or in the case of what animal you would be, don't respond with an animal and give a bland why, like they're fast or just cool. Better responses include something active on your perfect Sunday and a thoughtful reason as to why you chose your specific animal. Choose an animal with dynamic attributes.
Example responses incorporating this tip:
If you like to cook, tell them that you would spend that Sunday learning the recipe and going through trial and error to make the perfect meal. This shows that you take initiative towards learning something new and you are capable of working past mistakes and improving yourself. Talk about your hobbies and interests, tying it in with a positive attribute.
I would be a duck – A bird that is calm on the surface but always has its webbed feet hustling underneath the water.
OR
I would be a monkey – Monkeys are intelligent and nimble, working well as part of a team and always problem solving.
DO send a thank you letter
This step is the most important, but is often overlooked. Candidates who send a thank you message leave positive impressions and are remembered for their etiquette. You can send a handwritten letter or an email, but make sure it is both genuine and concise. Respect that hiring managers have a tight schedule, but kind words always go a long way. Thank them for their time getting to know you and let them know that you'll be more than happy to meet them again.
An example thank you note:
Hi [Interviewer Name],
Thank you so much for meeting with me today. It was such a pleasure to learn more about [Hospital] and [Position], and I'm very excited about the opportunity to join your growing team.
I look forward to hearing from you about the next steps in the hiring process, and please do not hesitate to contact me if I can provide additional information.
Thank you again for your consideration,
[Your Name]
You're all set for your nursing interview journey. We've heard it before but practice makes perfect. Practice your responses to prepare you for your nursing interview.
Eisenhower Health offers various positions that provide room for career advancements. Check out our current job listings and gain opportunities to grow throughout your nursing career – from beginning to beyond.
Originally posted on 19/11/2020