The holiday season is the time for us to reflect and be thankful for what we have. Doctors and nurses know that there's nothing more rewarding than reuniting families during the holidays. We understand that it can be challenging for nurse teams with the rising patient intake due to COVID-19. With over 97,000 hospitalized COVID-19 patients at the time of this writing, both patients and staff can use some holiday cheer. Here are some heartwarming ways to enjoy the holidays with your patients and teammates while on duty.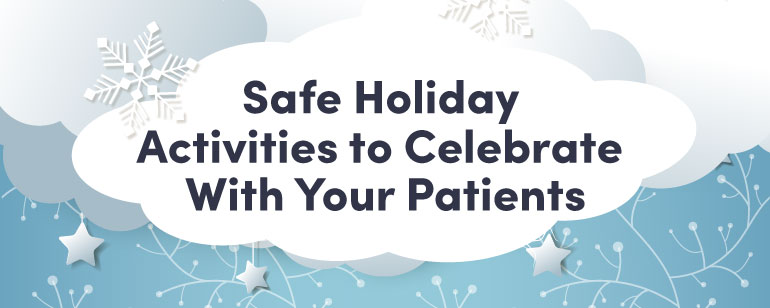 Jam Out to Holiday Classics
Reminisce about good memories made with loved ones while listening to holiday music. The pandemic has halted a lot of travel plans for many, but you can still enjoy the holiday spirit. Being in the hospital as a worker and a patient can be tough since both are separated from their families. Music is a great talking point for nurses who treat at the bedside. You will make a connection with your patients and help them feel especially cared for. Nurses who spend more quality time with their patients often hear stories that would make even the Grinch's heart grow 3 times bigger.
Dress Up in Holiday Gear
Don't be afraid to show off your snowmen scrubs! Wear a Santa hat or the reindeer bells that jingle while you're doing rounds. Dressing up helps nurses and patients get into the holiday spirit because they actually visualize it. Retire the usual blue scrubs for this season and opt for winter prints. Make the experience fun for your staff with a contest to see who has the best scrubs.
Enjoy Holiday Treats and Drinks
Swap out one of your cups of coffee for a warm cup of hot chocolate. Encourage your nurse team to bring holiday treats like gingerbread cookies, peppermint bark, pumpkin pie, and more. Create a schedule where people can volunteer what to bring to make sure the break room isn't overwhelmed with sweets. With the workload increasing during the holiday season, it's great to have food for nurses to snack on when they have a break. Having a potluck will increase team morale and give your staff a boost of energy when they need it.
Working over the holidays can be a very rewarding experience, especially when you're surrounded by a great team of nurses; search for opportunities to work at our world-class medical center on our Career page.
Originally posted on 16/12/2020