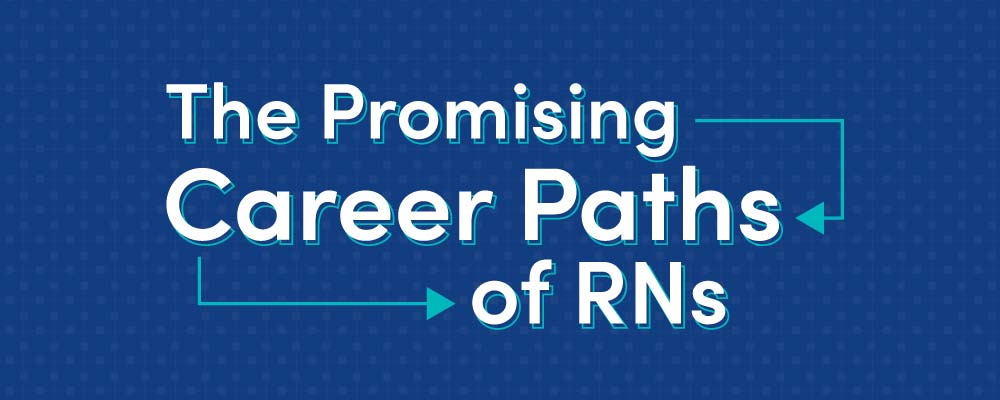 The Forecast for Registered Nurses
Job stability is something that most, if not all Americans covet, which is why it's so important to note that health care is one of the fastest-growing as well as highest-paying industries in the nation. Nurses are at the forefront of this trend, as the nursing shortage is creating quite a demand for qualified candidates in this field. If you're thinking of going into nursing, you might want to consider going the registered nurse route. A recent report by Payscale notes that a registered nurse makes about 40 percent more than a licensed practical (LPN) or vocational nurse. What this means is that, unlike in some other professions, the extra schooling and educational requirements that go into becoming an RN do equate to a big bump in pay.
You might be wondering what it takes to become an RN, what an RN does, and what the typical career path of an RN is, which is why we've covered all of these topics for you in what can hopefully be considered your guide to becoming a registered nurse.
What Does a Registered Nurse Do?
When it comes to patient care, RNs typically serve in a supervisory role to LPNs and nursing assistants. The tasks that fall under the purview of an RN are many, and they will obviously depend on what setting the nurse is working in. RNs can focus on a medical specialty, such as neonatal, pediatric, geriatric, surgical, or emergency care. RN nurse shifts are also quite varied, as shifts run around the clock and can either be permanent or rotating schedules. That being said, we've shared most of the typical RN responsibilities below:
Assist doctors during exams and surgeries
Evaluate and record the symptoms of patients
As previously mentioned, supervise other nurses
Lab work
Dress wounds and incisions
Inform on healthy habits, self-care, and other preventative measures
Pour over patient treatment plans and measure progress from visit to visit
Communicate with and offer guidance to patients' family members
Pioneer public health campaigns
Administer medications
Operate medical monitoring equipment
What Does it Take to Become an RN?
Obtaining the proper degree at an accredited institution is the first step in becoming an RN, and there are a few routes to choose from – an associate's degree in nursing, a Bachelor of Science degree in nursing, or a nursing diploma. The diploma is a bit of a controversial option, as it takes two years to complete and still doesn't provide a degree upon completion. In fact, many nursing associations and organizations are calling for the diploma option to be phased out entirely and encouraging the bachelor's degree instead. Registered nurses who hope to specialize their nursing knowledge can move on to a master's or doctorate level nursing degree.
Thankfully, RN training courses are offered both on campus and online so, although any training is going to take time, you can at least try and find the most convenient option for your lifestyle. If you're looking to get out into the field quickly, the associate's degree (ASN) is the way to go although, again, pay will commensurate with this degree. If you want to get into a more advanced nursing role or health care administration, you should consider going beyond the ASN and getting at least the BSN. The RN-to-BSN path is meant for RNs with an associate's degree. These programs typically take between 2-3 years to complete and have flexible schedules, as they are meant for working nurses. As such, they also offer work experience for credit. It's also worth noting that, as the field of nursing is becoming more and more competitive, more employers are requiring a bachelor's degree for new RN hires.
The typical bachelor's degree in nursing (BSN) generally takes four years to complete, and it gives nurses a chance to work in a variety of settings such as critical care, surgery centers, etc. Some schools offer second degree programs for students who already hold a bachelor's degree in a field other than nursing. Regardless, the BSN degree makes candidates eligible to sit for the NCLEX-RN, which is a requirement for practicing. Upon graduation, all aspiring RNs should register with the National Council of State Boards of Nursing to sign up for the NCLEX-RN exams. You'll receive an authorization to test once it's time to sign up for the exams. Ongoing education will also be required for licensure. Check with your state's board of nursing to make sure that you complete the necessary education requirements to become certified.
Nursing coursework typically includes the following subject matter:
Microbiology
Anatomy and Physiology
Biochemistry
Patient care
Chemistry
Psychology
Health care law and ethics
Nutrition
Nursing Research
Health Care policy
Statistics
So You Graduated! What's Next On the RN Career Path?
One of the biggest benefits of becoming a registered nurse is that, once you are certified, there are a number of career paths you can take. Here are some of the avenues you can explore:
Hospitals
If you thrive in an environment where no two days are the same, working as an RN in a hospital setting could be for you. Despite the inherent frenzy, you will likely get the opportunity to supervise and the opportunity to treat a wide variety of ailments. This is also a good opportunity to train in a specialty, such as surgical nursing.
Travel Nursing
This isn't the lifestyle for everyone but, for those who want to explore the country while working on short-term assignments, it's ideal. As a traveling RN, you are essentially sacrificing the ability to plant roots, so you often receive perks such as signing bonuses, free lodging, and coverage of relocation costs. Assignments run the gamut from 8 weeks to about 26 weeks.
Physician's Office
This is the way to go for those who prefer the stability of a 9-to-5 schedule. As an RN in this environment, you will dress wounds, conduct lab work, administer injections, and assist the physician during exams. Be aware, however, the competition for these jobs can be stiff due to the benefit of regular work hours.
Nursing Homes
Demand is high for RNs in residential care facilities due to the rise in Alzheimer's disease and the aging Baby Boomer population. You will almost certainly enjoy job security if you go this route. In this role, you'll evaluate and monitor the health of patients, formulate treatment plans, communicate with family members, perform medical procedures, and supervise other nurses.
Home Health Care
If you prefer autonomy in your career, this could be the RN path for you. Not only that, but you get a more personalized approach to health care, as you are usually enjoying a one-to-one patient experience. Home health care registered nurses monitor patients once they've left the hospital, providing any necessary treatments.
Military Nursing
Want to help patients while also serving your country? This is in your wheelhouse. As with travel nursing, there are many perks associated with military nursing, including tuition reimbursement, specialized training, and getting to travel across the globe. After you've become certified as an RN, you can decide whether to work as a civilian in a military hospital or apply for active duty.
…
If you decide you want to go for your master's degree, you will open up your field of opportunities that much further. After completing this education, you can apply for roles as nurse practitioners, nurse anesthetists, nurse midwives, and nurse specialists. You can also get further certifications in nursing management, acute care, and critical care. If you aspire to university teaching or scientific research, you'll need to get your DNP or PhD.
Job Outlook for RNs
According to the Bureau of Labor Statistics, over 2.7 million registered nurses are employed in the United States, and approximately 60 percent work in hospitals. RNs may also find themselves in clinics, physicians' offices, home health care settings, critical and long-term care facilities, governmental organizations, the military, schools, and rehabilitation agencies. The demand for registered nurses is expected to continue growing swiftly.
The geographical location and cost of living also affects the income of nurses. Below is a list of five states with the highest average wage for registered nurses:
California
Hawaii
Massachusetts
Alaska
Oregon
Tremendous job growth is expected for registered nurses, with a 19 percent expansion expected by 2022. Several reasons for this exist, including an aging population, wider healthcare availability through the Affordable Care Act, and the fact that one-third of registered nurses currently working are nearing retirement.
When taking all these factors into consideration, it's evident there is a lot of hard work and prerequisites that goes into becoming an RN. However, it's also clear that choosing a career as an RN has a promising and rewarding future, full of numerous job opportunities and career paths. Regardless of where you are in your journey to becoming an RN, we recommend you bookmark this page for easy access to this guide. And when you're ready to begin your job hunt, or explore a different RN avenue, be sure to check out the open RN positions with Eisenhower Health. We'll be waiting for you!
Originally posted on 11/10/2019